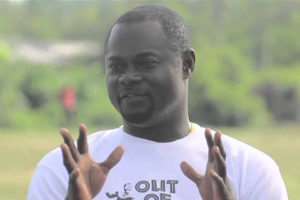 Ex-Ghana midfielder Nii Odartey Lamptey has revealed he tried to commit suicide after struggling to come to terms with the shocking infidelity of his disgraced ex-wife.
The world of the 42-year-old was shattered after DNA test revealed he NEVER fathered any of his three children after 20-years of marriage to Gloria Appiah.
The heart-wrenching episode led to a four-year bitter divorce tussle with his estranged wife - who drag him to court to claim 50% of his fortunes.
But an Accra High Court quashed her motion after being found guilty of adultery.
And the former Sekondi Eleven Wise assistant coach has revealed he contemplated ending his life after the painful torture.
'When I was informed that the [three] children were not mine, I know how I felt. Playing the role of a father to children I thought were mine for 21 years and realizing otherwise later, I nearly committed suicide," he told starrsportsgh
God gave me renewed energy and courage to withstand these pains and today, I can say I have gotten over them all.
'And today, with the final judgement, I thank God that my properties, my school and others I have kept them. She can take the little awarded her.
"Today the divorce has been granted and that burden that was on me is gone. Now, I'm a free and happy man, ready to start life again.'
The ex-Ghana star,
who now has two children with movie star Ruweida Yakubu ,
endured a massive emotional breakdown and needed therapy to heal the wounds.